November 2019
Summary of the Syrian refugees' situation in the educational sector
Eight years after of displacement in Lebanon, and despite the international community's financial support to the host community which is estimated at around $ 8 billion since 2011, Syrian refugees continue to face the same barriers against their daily life with increasing indirect pressures and being deprived from their legitimate fundamental rights. Nowadays, refugees are facing a new chapter of constraints to their lives after the imposition of many prohibitive conditions for their children to obtain the right to education guaranteed in the UN Charter.
Due to the obstacles imposed by the Lebanese Ministry of Education against refugees, more than half of 631,000 school-aged refugee children are not receiving any kind of education. It is estimated that only 210.000 of them are enrolled in public schools that have received support from the UN along with the contribution of some states that actively participate in funding the educational sector in Lebanon, noting that Lebanon has been granted with nearly $ 140 million as international assistance to support approximately 250 thousand Syrian children and 215 thousand Lebanese children for 2018-2019.[1]The Vulnerability Assessment of Syrian Refugees in Lebanon 2018 (VASyR) estimated that around 54 percent of school-aged children (between 3 and 18 years) are still out of school, many of whom did not receive previous education or they have had their education interrupted for an extended period of time.
Highlighting the major difficulties, the Syrian refugee children face in the education sector
– The inability to afford the cost of transportation to and from school and the inability to afford the cost of learning materials.
– Some schools refuse to register Syrian children which is justified by the administration on the grounds of the lack of places in the school.
– Lack of an appropriate curriculum to integrate Syrian children into the Lebanese educational system.
– Children are exposed to bullying and discrimination by teachers (73% of Syrian refugee children were subjected to at least one form of violent discipline in 2018).[2]
– Lack of awareness of the availability of non-formal educational centers or the unwillingness to register children in this kind of centers mostly due to the fact that children are not granted with formal recognized certificate of their graduation.
As of Syrian children between 15 and 18 years, there is an even higher dropout rate from schools for several reasons, the most important of which are:
Child labor: This is the main reason for children dropping out of school and constitutes a major obstacle to school attendance or even enrollment in schools. Some refugee families depend on their children for their livelihood, and this reliance has increased due to the lack of humanitarian assistance for Syrian refugees from the UN and donor states since the beginning of 2018. The average Syrian family expenditure in Lebanon, consisting of four members, is at least $ 700 for basic living expenses and housing rent.
Educational curriculum: Children who have been able to get a seat in public schools struggle to keep up with the Lebanese educational system, since the curriculum in Syria is different from the one adopted in Lebanese schools, which depends mostly on the English or French language. 
Early marriage: 29% of Syrian refugee girls between the ages of 15 and 19 are married according to numbers from 2018, and the economic burden is one of the main reasons contributing to the early marriage of refugee girls.[3]
Complaints have been submitted to Access Center for Human Rights (ACHR) have stimulated its responsibility towards refugees' rights to education, the center's team has carried out a field visit with the collaboration of one of the organizations working in the education sector in region of Beqaa and Aarsel. ACHR's team has met some of the Syrian students enrolled in the primary and secondary school and during the interviews with them, complaints have been raised about the Ministry of Education' imposition of complex procedures and conditions on Syrian refugees in order to obtain official certificates proving their academic which prevents them from registering for the current year 2019-2020 and leads to the following:
1-Refusal of granting some Syrian students with a document proofing their graduation in secondary and primary school they attended during the current year without any justification, despite the Minister of Education had issued an official decision (Document No. 11/1409)[4] according to which the Syrian students and students of other nationalities  who do not hold legal residency in Lebanon will be handed over their certificates of passing the official exams of the (middle and high school), and despite the parents of Syrian students referred to  the Directorate of Education in Zahle  about the refusal to grant their children school the graduation certificates, the answers were limited to place the responsibility to the Ministry of Education in Beirut.
2-Many middle school students (who passed the 2018-2019 school year) were unable to complete their registration for 2019-2020 in some schools, while others were formally accepted and then asked to bring a "sequence paper" , or some papers related to their education. While secondary school students and their families still move from one Directorate of Education to another between Zahle and Beirut to inquire about outstanding certificates.[5]
3-Demanding Syrian students to provide a "sequence paper" from their schools in Syria, although there were students who were enrolled in alternative education schools set up by civil society organizations in Lebanon to ensure that they do not drop out of education and they are non-formal schools. In addition to that, some of the holders of preparatory or secondary certificates have obtained them from Syria by going through formal exams, without going through the formal classes, and a large proportion of students residing in Lebanon cannot return to Syria to obtain a sequence sheet, while their application is not available from the Syrian embassy in Beirut.
Access Center for Human Rights (ACHR) is very concerned about Syrian Refugees' issues in Lebanon, and considers that the right education needs more support, and calls on the Ministry of Education in the government to play its role in monitoring the decisions of the Ministry of Labor, and facilitate granting Syrian students certificates and official statements. It also calls on facilitating the process of completing the registration of new students, or who wish to complete their classes in advanced stages as soon as possible.

---
[1] Human Rights Watch Report, "Lebanon: Difficulties in Registering Syrian Children in Schools", 12th December 2018. https://www.hrw.org/ar/news/2018/12/13/325210
[2] Vulnerability Assessment of Syrian Refugees in Lebanon (VASYR), 2018.
https://www.unhcr.org/lb/wp-content/uploads/sites/16/2018/12/VASyR-2018.pdf
[3] 101Facts & Figures on the Syrian Refugee Crisis", The American University of Beirut, 2019
https://www.aub.edu.lb
[4] Al Siasi Newspaper, "Our Success is the key for our misery" https://alsiasi.com/?p=141468
[5] The Daily Star, "Syrian kids' diplomas held hostage", August 2019. http://www.dailystar.com.lb/News/Lebanon-News/2019/Aug-09/489368-syrian-kids-diplomas-held-hostage.ashx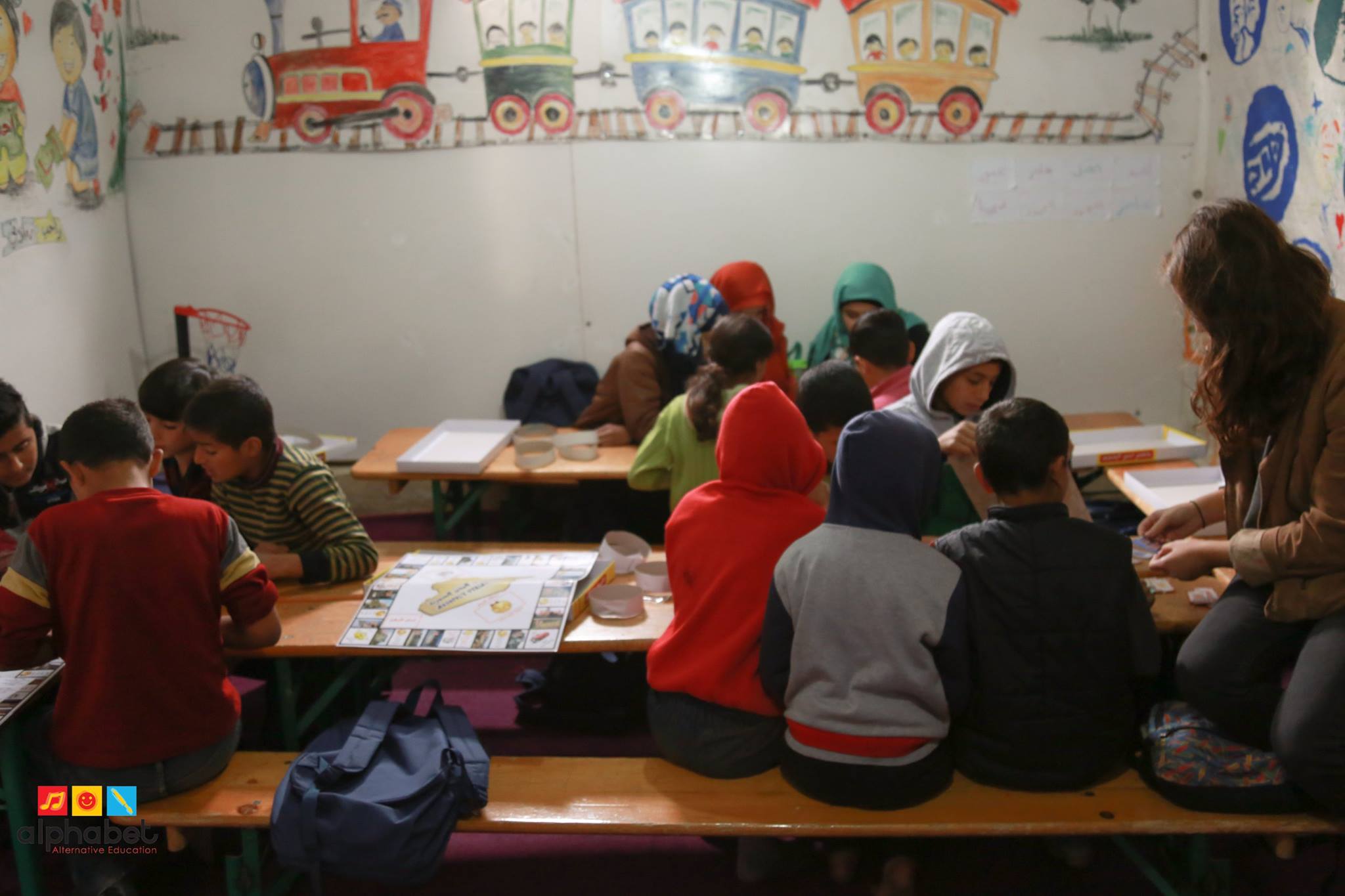 Photo by Alphabet for alternative Education – Syrian refugee camps in the Bekaa / Lebanon